What if our buildings could be healthy for both people and planet?
Discover how we rethink regenerative homes with 'Living Places'

'Living Places' is not just a building project it is a new way of thinking about how to build in the future.

Developed by VELUX, EFFEKT and MOE - the project aims at exploring how the building industry can support the health of the people and the planet through building design that is scalable, affordable and commercially viable.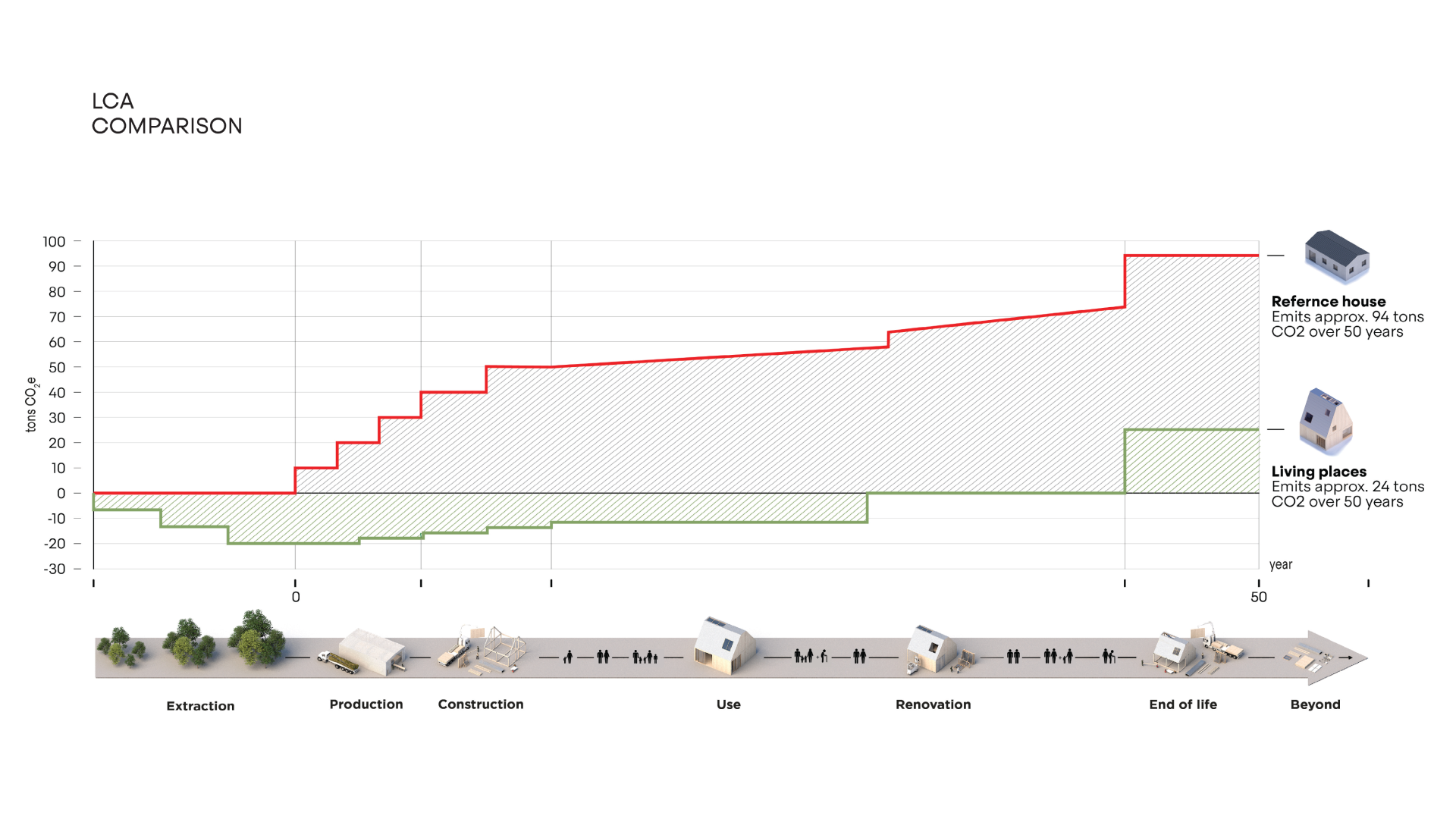 What if we could think about buildings in a new way?
"To me, Living Places is a new way of thinking about buildings. We work to achieve healthy homes through a careful choice of materials, techniques, and designs. We try to strengthen community sense by combining private homes with shared spaces. And we use simple building systems that require little maintenance and can easily be upgraded, repaired, and fitted with smart appliances.

Also, we will make the houses adaptable to diverse ways of living. Finally, we will try to unlock well-designed affordable housing for many" says Sinus Lynge, Partner, EFFEKT architects.

Our experiments with Living Places, so far tell us that there is potential in striving for buildings that are regenerative for both people and the planet. The first example of Living Places will be built as a pavilion for the World Capital of Architecture in Copenhagen 2023.

By thinking about buildings in this new way, we hope to bring inspiration and momentum for the development and construction of housing. Now everything points towards that we can have buildings that are healthy for both people and the planet.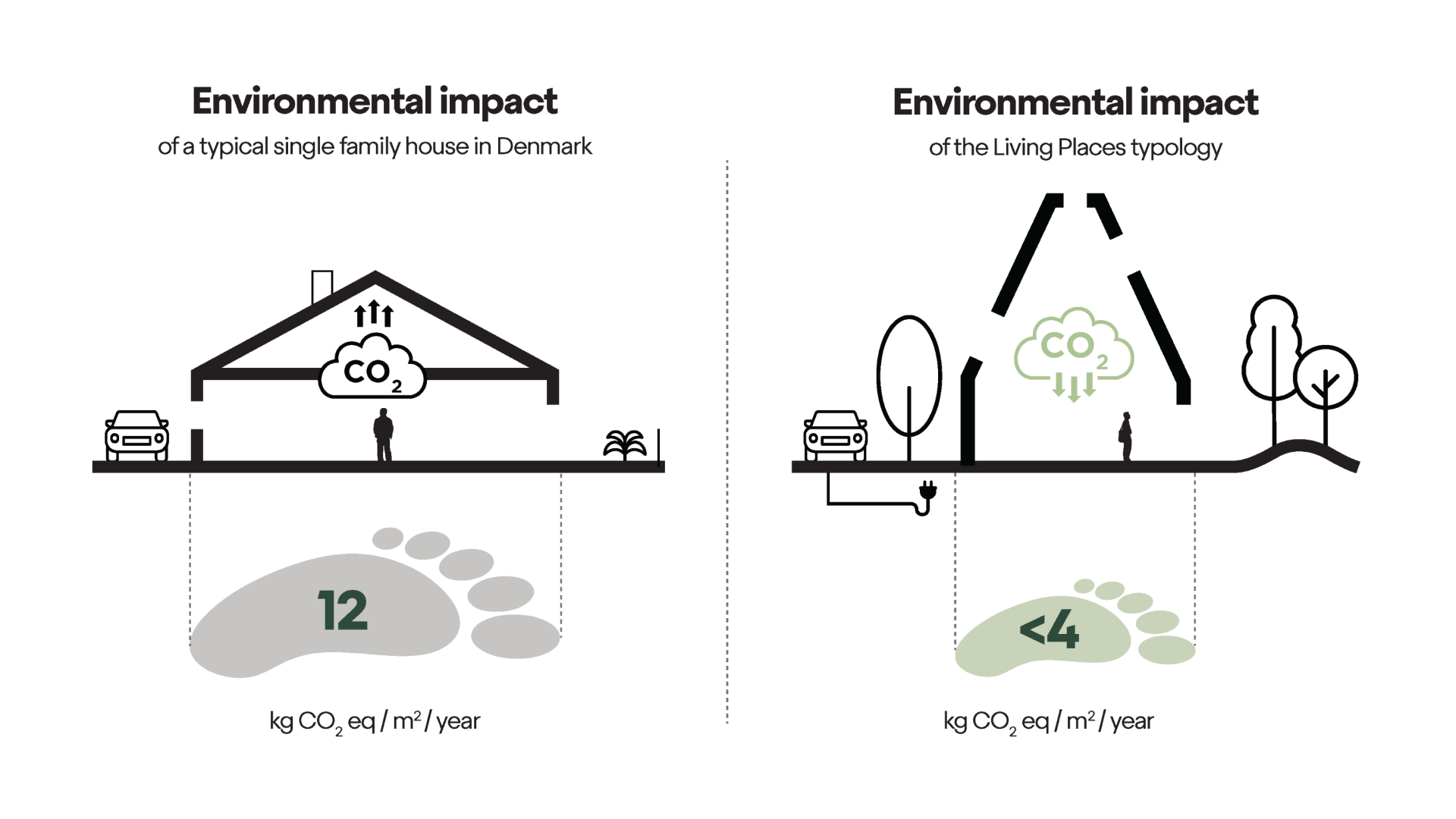 What if we could build homes that are healthy for the planet?
We took a look at the most common Danish home. We examined materials, construction, utilities, and architecture. And we asked ourselves how rethinking everything can take us closer to building homes with significantly less impact on the planet.

At this point, calculations show that we might be able to achieve a 70% emission reduction compared to an average Danish single-family house. And it doesn't seem that we have to wait for any future technology to accomplish this.

"We have all the knowledge and technology we need for the built environment to create responsible and regenerative solutions. The industry of today can reach our climate goals, using simple principles.

We are currently creating homes with low carbon emissions without compromising qualities like a healthy indoor climate, fresh air, and daylight" says Steffen E. Maagaard, Corporate technical director for energy design and indoor climate, Moe Engineers.

Further calculations show us, that if we in Denmark were to build all single-family, row chain, and double houses like Living Places, we could save approximately one million tons co2 each year.

Denmark's climate goal is to cut emissions by 70% by 2030. To achieve this goal, the building sector needs to reduce co2 emissions by almost six million tons. What if we could reduce the emissions from the industry by 17%? So far, our calculations tell us that this is within reach.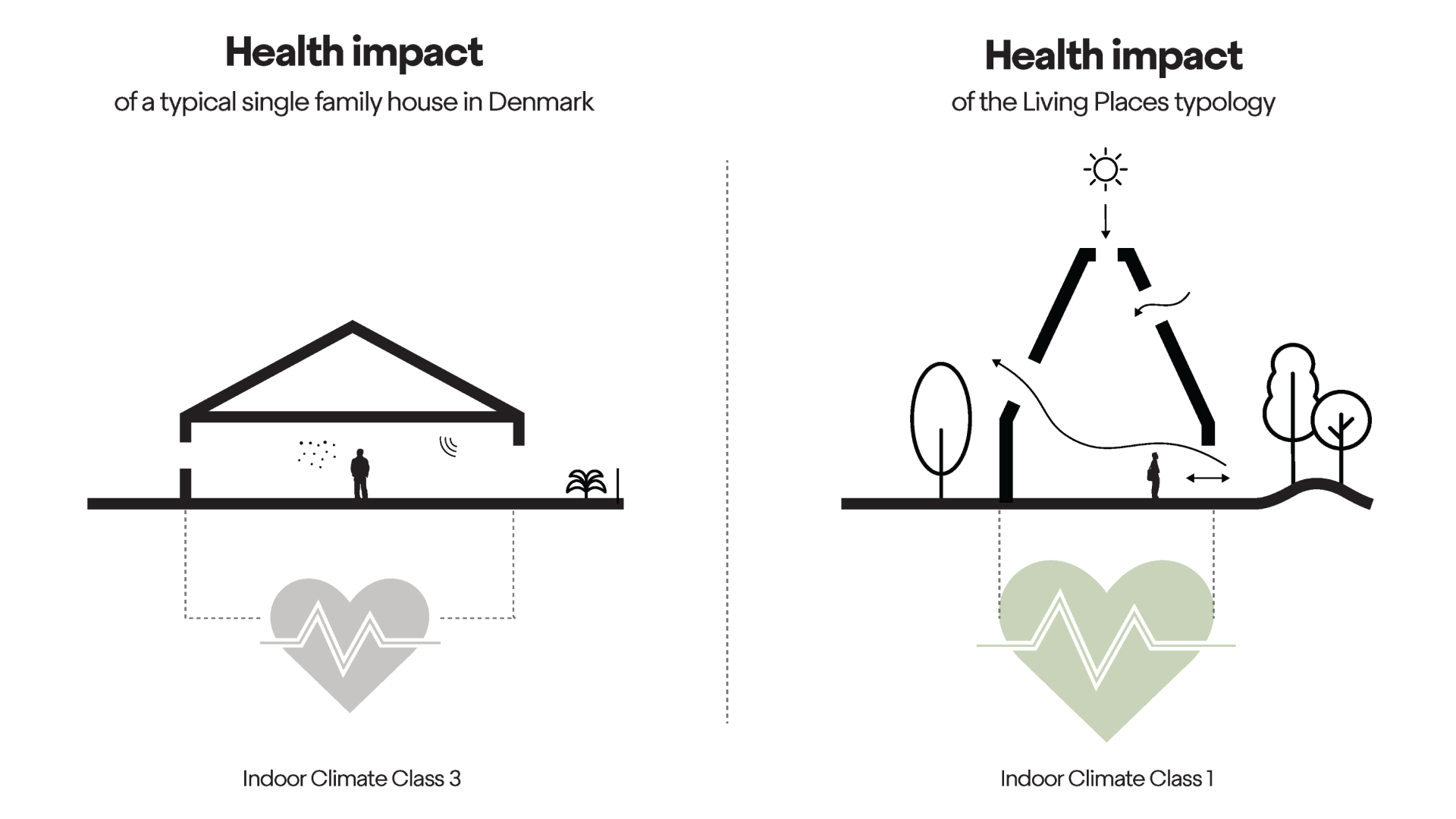 What if we could build homes that enhance our health and wellbeing? 
Since industrialization, humans have become increasingly separated from nature. We spend 65% of our time at home, and our homes are closely related to our health:

"By the time you reach 80, you will have spent 72 years of your life indoors. Like it or not, humans have become an indoor species. This means that the people who design, build and maintain our buildings can have a major impact on our health" says Dr. Joseph G. Allen, associate professor at the Harvard T.H. Chan School of Public Health.

Keeping this in mind, we give Living Places natural ventilation, daylight, and fresh air. We visually let in nature and the sky, allowing inhabitants the best possible options to follow the light through the day and night and the changes in nature over the year.

"Your living place should support your health with daylight and fresh air and adapt as your needs change over the day, the year, and time in your life. We are strongly committed to pushing for healthy buildings which promote wellbeing for people and the planet, and we walk the talk transforming spaces into healthy living places. The Living Places concept indicates that we can build with a footprint within planetary boundaries and with an indoor climate class I – both measured over the entire life cycle of the building" says Lone Feifer, architect, and director for Sustainable Buildings, VELUX.
Contact us
If you would like to receive more information or join the development of Living places contact Lone Feifer, director for Sustainable Buildings, VELUX: