Daylight
Symposium
Stage
Since 2005, the Daylight Symposium has been dedicated to exploring the importance of daylight in creating healthy, resilient buildings. From this stage, more than 40 recognized and emerging voices in the fields of daylight research, education, and practice will share new knowledge and innovative applications related to the use of daylight in building design, particularly focusing on the health benefits for individuals and the environment.
The main theme of this year's Daylight Symposium is `Bridging Research and Practice.'

Speakers on this stage will address the following topics: New applications of daylight, with a focus on benefits for people and the environment, Best practices for architectural daylighting with regard to connecting people with nature, tools, metrics, legislation and systems for evaluating the daylight quality and performance, the role of daylight during pandemics and beyond, and the future of daylight education.​

As in the past, the goal of this year's Daylight Symposium is to encourage the sharing of scientific knowledge and practical applications by interlinking disciplines that are usually addressed in separated spheres and professional circles.​
Meet The Moderators
The Daylight Symposium stage will be moderated by Kevin Van Den Wymelenberg, Professor of Architecture at the University of Oregon and Director of the Institute for Health in the Built Environment, and Martha Thorne, architectural academic, curator, editor, and author, as well as the former Executive Director of the Pritzker Architecture Prize and currently the Dean of the School of Architecture at IE University in Madrid.
Kevin Van Den Wymelenberg

Kevin Van Den Wymelenberg is a professor of architecture at the University of Oregon. He directs the Institute for Health in the Built Environment and seeks to facilitate integration amongst a broad network of researchers and practitioners on issues concerning health, comfort, and sustainability in the human ecosystem in order to support human, community and planetary health.

Martha Thorne

Martha Thorne is Dean of the IE School of Architecture & Design, at the innovative, international, private IE University in Spain. She served as Executive Director of the Pritzker Architecture Prize from 2005 to March 2021. 
Programme
Daylight Symposium Stage
Each of the two main stages of the Build for Life Conference will have a dedicated moderator to help facilitate the digital event experience.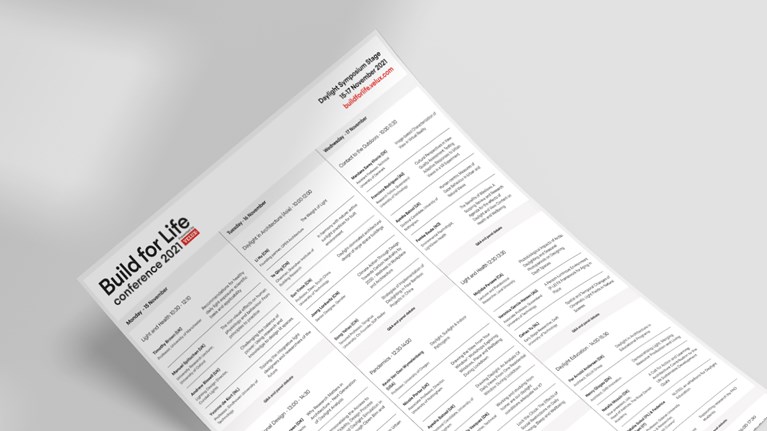 DS Programme (1).pdf
Light &
Health

Exposure to light has an important effect on human health and well-being by modulating circadian rhythms and sleep, as well as neuroendocrine and cognitive functions.

Current light-exposure patterns do not sufficiently stimulate many individuals, however. Today, we better understand the possibilities of adjusting the lighting to promote ideal physical and mental health and performance.

Computational
Design

New research and ongoing developments in the field of building performance simulations present new opportunities and challenges to building professionals involved in daylighting design. Involving daylight analysis in the design process is a technical and communication challenge that new technologies can help us overcome.

How can we democratize access to high-quality daylight simulations, and is it possible for new methods, tools and algorithms to lead better daylight design?

Daylight in
Architecture

Daylighting strategies and architectural design strategies are inseparably linked. Views, reflections, design approaches and projects from architects around the world will be presented to highlight the best architectural daylighting practices that consider spaces for light to inhabit and to highlight an awareness of – and contact to – our natural surroundings.

Pandemics

Since the spring 2020, the pandemic has forced millions of people to work, learn and live within the four walls of their homes. The home has been transformed into many people's workplaces and classrooms overnight, raising our awareness of the home environment or just the spaces we occupy.

What have we learned and what will be important in the future?

Glare and
Controls

Glare is a negative sensation and a result of bright window areas producing annoyance, discomfort or loss of visual performance and visibility. This can be resolved by using shading devices, but glare is also dependent on individual perception, context and preferences, as well as if you are at home or at work.

How can we provide an indoor environment that can support individual preferences, as well as find a way to operate the shading devices in our buildings?

Contact to
the Outdoors

Views of the outdoors provide visual connection with the surroundings so we can perceive the local environment, weather changes and the time of day. This visual information can relieve the fatigue associated with long periods of being indoors. All occupants of a space should have an opportunity for the refreshment and relaxation afforded by a change of scene and focus.

Daylight Education

While daylight has been used as the primary source of light in buildings for centuries, daylighting is still a difficult discipline to approach, understand and master. What level of knowledge on this subject will future architects and building professionals possess?

What are the implications of daylight education in the real world? And how can we help future generation of professionals use daylight in buildings in the best possible way?
Daylight Symposium

Pandemics

Contact to outdoors

Ayesha Batool

Doctoral Researcher

University of Nottingham

Ayesha Batool is a doctoral candidate in architecture at the University of Nottingham. As an architect, she uses a human-centric approach, focused on improving wellbeing and empowering local communities. 

Daylight Symposium

Computational design

J. Alstan Jakubiec

Assistant Professor

University of Toronto

J. Alstan Jakubiec is a building scientist, educator, and architect at the University of Toronto specializing in building performance simulation and post-occupancy evaluations. 

Daylight Symposium

Computational design

Alejandro Pacheco Diéguez

Digital Sustainability Co-ordinator

White Arkitekter

Since 2014, Alejandro Pacheco Diéguez has worked as an architect and digital sustainability specialist. In all of his work, his focus is to help reduce the environmental impact of buildings by bringing environmental performance analysis closer to the workflow of architects.

Daylight Symposium

Glare & controls

Eleonora Brembilla

Assistant Professor

Delft University of Technology

Dr. Eleonora Brembilla is an Assistant Professor in the Building Physics and Services group at the TU Delft Faculty of Architecture, in The Netherlands. 

Daylight Symposium

Computational design

Franz Forsberg

Sustainable Environmental Design Specialist

dataTrees

Franz Forsberg's work as a designer aims to bridge the gap between architects and engineers, for the benefit of society.

Daylight Symposium

Pandemics

Till Roenneberg

Professor

LMU Munich

Till Roenneberg is professor emeritus at the Medical School of the LMU Munich, a former President of the European Society for Rhythms Research (EBRS), and is currently President of the World Federation of Societies for Chronobiology (WFSC).